Politicians vs Judiciary: Parties oppose court order banning jailed politicians from polls
Reported by Sunil Prabhu, Edited by Deepshikha Ghosh | Updated: August 01, 2013 14:13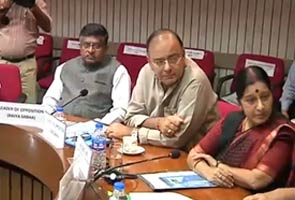 New Delhi: They may not agree on most issues but all political parties have united to oppose the Supreme Court's ruling that politicians in jail can't contest elections and lawmakers convicted of a crime have to quit immediately - landmark verdicts seen by many as a big step towards cleaning up Indian politics.

Parliament's supremacy must be maintained, political parties said at an all-party meeting ahead of the monsoon session next week, setting the tone for a major confrontation with the judiciary.

All parties roundly opposed the Supreme Court verdict and called for amendments in the Representation of People's Act, Union Parliamentary Affairs Minister Kamal Nath told NDTV.


"We are deeply concerned about the verdict, it will lead to atrocious consequences," said Bharatiya Janata Party (BJP) leader Ravi Shankar Prasad, the deputy Leader of Opposition in Rajya Sabha. "Any government can detail its major political opponents one day before poll nomination."

The BJP leader told NDTV that wider consultations were needed on both the rulings. 

All parties also called for passing the Judicial Commission Bill which aims at a National Judicial Commission to give the executive more say in appointments to the Supreme Court and high courts.

But the government may not find it easy to get the opposition on board on other contentious issues expected to disrupt the session. 

BJP leaders Arun Jaitley and Sushma Swaraj said the party would not stall Parliament but would raise the controversial Ishrat Jahan encounter case, the rupee slide and the Uttarakhand government's performance after the flash flood tragedy.  

"The government is being too ambitious by wanting to pass 64 Bills in only 12 working days," said senior BJP leader Arun Jaitley, who is the Leader of Opposition in Rajya Sabha. 

"We will not disrupt Parliament but it is dependent on whether the government has a constructive attitude."

The government wants backing for key legislation including the Food Security Bill and the Land Acquisition Bill.

A political consensus has so far eluded the Food Security Bill - seen as the UPA government's gamechanger ahead of next year's general elections - with the government's own allies like Samajwadi Party leader Mulayam Singh Yadav calling it "anti-farmer".

The last session was disrupted over demands for the sacking of Pawan Bansal & Ashwani Kumar over the Railway cash-for-post scam and allegations of government interference in the CBI's coal scam report. The opposition also targeted the Prime Minister, who headed the Coal Ministry for some of the years during which coal mining licences were allegedly given illegally to private companies.
http://www.ndtv.com/article/india/politicians-vs-judiciary-parties-oppose-court-order-banning-jailed-politicians-from-polls-399696 
*******************
FOLLOW 
@ATMwithDick on twitter or 
FOR 100s of high court and supreme court cases
regards
Vinayak
Father of a lovely daughter, criminal in the eyes of a wife, son of an compassionate elderly mother, old timer who hasn't given up, Male, activist