Many Mumbai cops hit hard by erectile dysfunction
Saturday, Aug 10, 2013, 7:36 IST | Place: Mumbai | Agency: DNA
Sexologist at police hospital says the disorder is caused by sleep deprivation, stress and an unhealthy lifestyle.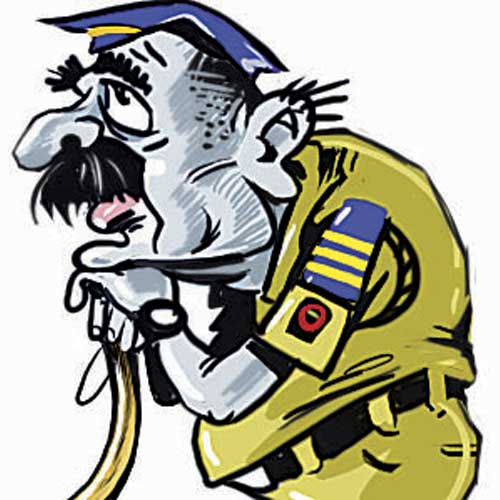 - Sudhir Shetty/DNA
The call of duty can result in an unexpected casualty. A sexologist on the Mumbai police hospital's panel of doctors at Nagpada has found that 40% of about 250 personnel who consulted him over the last three months suffer from erectile dysfunction.

Blame the hypoactive sexual desire disorder on sleep deprivation due to long work hours, life-threatening stress and unhealthy lifestyle.

Sexologist Dr Deepak Jumani was included in the panel after a session with a senior IPS officer. 

The officer, who sought help for erectile dysfunction, realised that reaching out to an expert alone could be a major morale booster to his men, says another senior cop.

There are about 40,000 personnel in the Mumbai police department.

Dr Jumani, who has been visiting the Nagpada hospital twice a week for the last three months, reveals that police personnel, like many others, are diffident when it comes to talking about sexual disorders. 

"We live in a sex-saturated society. We are all exposed to erotic material, be it on hoardings, in fashion, the film industry, newspapers, magazines, television or the Internet but we don't talk about our sex problems. It is good that the cops are opening up now."

Listening to policemen opening up, Dr Jumani found that over 60% of them suffer from sleep deprivation after spending 16-18 hours at work a day and are, therefore, unable to spend quality time with their partners. 

To correct unhealthy lifestyles, the police hospital runs an obesity clinic that has dedicated nutritionists who give suggestions on the right diet to follow.

The sexologist explains that the sexual urge is the strongest of all human desires. "Though sex is a natural and normal function of our body, many are sex-starved because of cultural factors, myths or sheer ignorance. It could also be because of lifestyle problems or diseases like diabetes."
http://www.dnaindia.com/mumbai/1872429/report-many-mumbai-cops-hit-hard-by-erectile-dysfunction

**********************
FOLLOW 
@ATMwithDick on twitter or 
FOR 100s of high court and supreme court cases
regards
Vinayak
Father of a lovely daughter, criminal in the eyes of a wife, son of an compassionate elderly mother, old timer who hasn't given up, Male, activist